Yardage
Genre
Fabric by Vendor
PreCuts
Patterns
Quilt Backs
Kits
Books
Hand Crafted Items
Custom Cuts
New Items
All Items


Home
Catalog
Search Catalog
Site Map
LINKS
Contact
FREE PATTERNS
Order Tracking
BLOG



View Your Cart
Yardage sold by the 1/2 yard unless noted other wise.If you want to order a yard put 2 in the quantity.Precut 1 yard cut bundles, charm packs, stacks, etc. sold as a unit.

Checkout with PayPal or a credit card SSL SECURE PAYMENT
Christmas Tree Table Runner by Barb Gaddy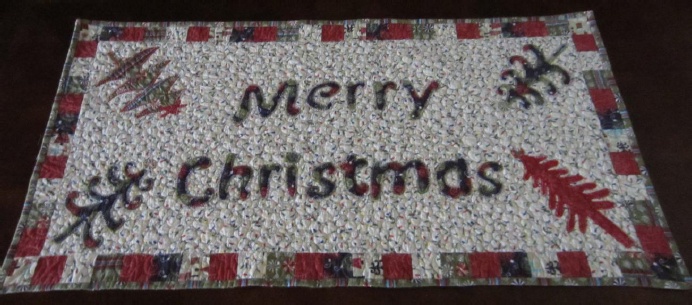 Materials:
Back ground fabric: 30 ½ x 15 ½
64 – 2 inch squares
2 sheets of steam a seam
8" x 11" fabric for wording
4 – 6" x 8" assorted Christmas fabric for trees
Batting and backing.
You will prep the wording and trees for appliqueing onto the back ground fabric. See your Steam a Seam for instruction or fabric adhesive of choice. Lay out as shown in the picture. I just loved that one curly tree so I used it twice, you can use any tree twice of make a fourth one of your own.
Iron the applique pieces to the background fabric, blanket stitch around each piece.
You will need 20 – two inch squares across the top and bottom of the background fabric. Do not count my squares; my background is a little bigger than what I am presenting to you.
You can strip piece several long strips of 2" fabric together or you can sew 2" squares together, the results is the same, one just takes longer.
Sew your 20 squares across the top and bottom. Then you need 12 – two inch squares for the sides. Sew the side borders, add batting and backing, quilt as desired.
I will say that I did a heavy stitching on my runner or wall hanging and it caused quite the ripple. I had to block my piece; I told you that so you can beware of how you quilt yours.
Back to Articles